Drupal Power Workshop now available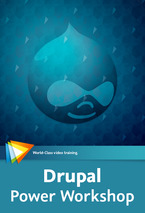 I'm happy to announce that Drupal Power Workshop, my latest video training course for Drupal, is now available. It's just under five hours long, and is the first of these courses to be recorded at the video2brain offices in Graz, Austria. I flew there earlier this fall to record this one and several other upcoming courses, and it was a pleasure. The people there are very nice (as are those based here in the US), and as I said while I was there, you should just buy everything. Get a subscription, put those videos into that brain!
Anyway, because I recorded in their studio, you get the same, high-quality screencasts you've seen in my other courses, but you also get an introductory video where you can see my foolish mug (scroll down the page a little to see it).
This course is exclusively available for download from my store and the mothership at video2brain.com, for $40. I also have a bit of an incentive for you to order it sooner rather than later: from now until January 1, 2013, enter the coupon code DRUP20 at checkout from my store to get 20% off the course. That, my friends, is a sweet deal.
To celebrate the release of this new course, I've retooled the training section of this website a bit, using some of the techniques I discuss in the two Drupal courses. Every course had a home in the store, and on video2brain.com, and here in these introductory blog posts, but I wanted each one to have its own page. So now there's a custom content type for all the courses, with some sensible fields (both core Drupal fields as shown in the first course, and some Display Suite fields as shown in this new one), all laid out with Display Suite and a bit of custom CSS. As the catalog expands, this will make it much easier to let the training page update itself as I add more courses. There are several coming in the next few months, so I wanted to be ready.
Please take a look at Drupal Power Workshop, watch the free videos, and let me know what you think! And, of course, buy it. Right.