About
About Joe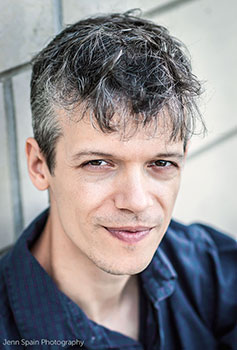 Joe Chellman, Principal, has been a web designer since 1996 and a drummer since 1989. He received his master's degree in Human-Computer Interaction from Carnegie Mellon University, focusing on usability design, in 1999. When he's not whacking hollow objects with sticks or building websites, Joe can be found cycling, playing basketball, cooking, shooting photos, or tracking down the best ice cream in town.
Joe favors clean, simple design, both visually and functionally. He is an avid supporter of web standards and accessibility guidelines and laws, and he builds sites to comply with both.
Joe's technical repertoire of acronyms and products (TRAP™®) includes PHP, JavaScript, Drupal, WordPress, Backdrop, ExpressionEngine, Movable Type, HTML, CSS, Sass, LESS, MySQL, XML, vanilla, chocolate, and strawberry.
Site Colophon
ShooFly is a Mac shop. We find Macs to be the right tools for us to get our work done quickly and well. We also use Windows virtual machines for testing our websites and supporting our clients who use Windows, you poor dears.
Some of the software we use to produce this and other websites include:
This website is hosted on a Linode VPS. (That link is a referral. Use it, and we'll get a few dollars if you sign up.)