Come See Me, and Everyone, at WordCamp Orange County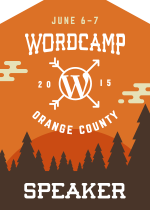 I am pleased to announce that I'll be speaking at WordCamp Orange County this year. I'll be speaking on how to use a debugger, like NetBeans or phpStorm, which is a very helpful skill for anyone who works with themes or plugins. The current snappy title for the talk is "Let's Debug for Real!". Check out the schedule to see more snappy titles from the other smart folks who will be presenting.
I'm sorry to say that tickets are sold out, so if this is the first you're reading about the camp, you'll have to wait and see if a few more tickets are released closer to the event. WCOC's Facebook page is the place to look for that.